Produced by Art of Flying
Recorded & Mixed at The Tower, & Studio (C) Taos, NM
Mastered by Margaret Luthar at Chicago Mastering Service
"… there's real depth to Art of Flying's songs, as what initially sounds like a very minimal, low-key fragility, and even vulnerability, transforms on further listening into something more interesting.
The album has a delicate, haunting quality, with moments of melancholy and regret balanced with quiet joy and even hope – all the better to unfurrow anxious brows in these torrid, angst-ridden times.
It's about as personal and non-corporate as you can get"
expletive undeleted-.
Side A
Hang around the Water
Hey! Here comes the Light
Good Traveler
Jesus said & Mary said
Side B
Escort Mission
Song for Iris
Sing Me Pretty Bird
End of Side B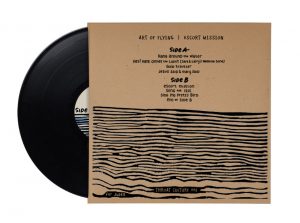 (throatCULTURE 003-2018)